Founder of Infobird Software Co. Ltd. (NASDAQ: IFBD) Chairman and CEO
Life-long passion for computer science
Launched the first cloud call center SaaS product in China
Almost 10 years serving mega financial institutions with customized SaaS
Infobird is quickly expanding – pushing standardized SaaS into broad markets to service a wide variety of industries and increase market share
In the spring of 1990, 24-year-old Yimin Wu completed his undergraduate and graduate studies in computer science at Tsinghua University and was assigned by the university to Hewlett-Packard in the United States as a software engineer. With 'life as an adventure' as his credo and a fiery passion for cloud computing, Yimin went back to China and started his own business to provide all-software middleware for call centers.
With a strong background in technology development, Yimin Wu realized the huge potential of cloud computing in early 2004. This was when Skype, a communication software based on VoIP, first became popular across the world. The success of Skype sparked his imagination about the possibilities for an all-software based cloud call center – with zero hardware involved. With the idea of combining cloud computing with an all-software call center, Yimin Wu led his team aiming to develop the first cloud based SaaS product for call centers in China. Customers no longer needed to purchase hardware equipment, buy and install a complete set of software, and then build their own call center. They only need to purchase "services" from Infobird Software (NASDAQ: IFBD) based on the number of seats and the time they needed. In 2007, the company successfully launched the first cloud based SaaS product in China and its efforts were highly recognized by its peers. In the same year, Yimin Wu was also named to China's top ten software leaders by the China Software Association for being the first to put forward the concept of cloud call center in China.
Today, the importance of cloud computing is undisputed, but go back ten years and the concept of cloud computing was unknown to both the public and business. Since 2007, under the leadership of Yimin Wu, Infobird has also successfully upgraded from a traditional call center service provider to a leading SaaS (software as a service) provider in China, providing large enterprises with innovative AI-driven or AI-empowered customer engagement solutions. Today, Infobird is still launching new SaaS products to meet the diverse needs of customers.
Infobird has been serving its clients with cloud call center and other intelligent customer engagement solutions for 20 years. When Mr. Wu was asked what formed the foundation of Infobird's development, he answered firmly, "It's technology". He added, "I think we rely on technology to keep pace with the times. We have to use the most advanced technology at that time to meet customer needs. It does not mean that we can win the market with only one technology. We will continue to develop new technologies to meet customer needs. We believe that the ultimate purpose of developing new technologies is to serve the specific needs of customers. It is not our philosophy to develop technology solely for the sake of technology." In China, Infobird is one of the very few software companies that is capable of providing customized SaaS services to ultra-large companies and financial institutions.
In 2012, the first phase of China Guangfa Bank's credit card telemarketing system was undertaken by Infobird which immediately passed the acceptance inspection. Delivering unparalleled service levels, Infobird's solution was constantly evolving and improving to support the rapid expansion rate of China Guangfa Bank's credit center. This project later became the largest commercial private cloud call center and cloud computing real-time business system in China at the time.
According to the prospectus from the company, it also states that the company will no longer be dependent on a single large customer, China Guangfa Bank, which accounted for approximately 77.3% of the total revenue in 2019. The percentage of revenue from China Guangfa Bank is expected to decrease to less than 35% in 2020 and furtherdecrease to an even lower percentage in the near future. The company has been expanding the customer base for multiple mid to large companies in finance, healthcare and retail industries by promoting of the standardized module SaaS. Because of Infobird's dedication to technology, the company has gained the trust of major companies and large financial institutions. Infobird's SaaS products are widely used in banking and insurance, education and training, e-commerce, travel ticketing, service outsourcing, healthcare, logistics and retail and multiple other industries. Infobird has a wide range of customers, including small growth companies as well as many Fortune 500 companies.
According to the forecast of an independent Chinese consulting company, China's public cloud SaaS market will reach 37 billion yuan in 2021, and the enterprise-level SaaS market will reach 74 billion yuan. It is estimated that by 2026, China's public cloud SaaS market will exceed 100 billion yuan and the enterprise-level SaaS market will exceed 270 billion yuan. In the future, as a large number of traditional Chinese companies start their digital transformation, China's SaaS market is expected to encounter an upward turning point of explosive development. Faced with the upcoming market break out of Customer Engagement SaaS in China, Yimin Wu decided to take the company public on the Nasdaq and use the power of the international capital market to accelerate the company's development.
Yimin Wu believes that Infobird's IPO gives investors around the world a unique opportunity to profit from the exceptional high-growth of China's SaaS industry. Compared with US domestic SaaS companies that are currently listed on major US exchanges, the Price to Sales ("PS") ratio of Infobird is about 3 to 5 times less than that of US peers. The price-to-sales (P/S) ratio shows how much investors are willing to pay per dollar of sales for a stock. A low ratio implies the stock is undervalued, while a ratio that is higher-than-average indicates that the stock may be overvalued.
Pricing Infobird's IPO at a relative lower valuation attracts interest from long-term and strategic investors who understand value investment concepts and can accompany Infobird over the long run. The company believes that investors with a long-term value investment philosophy can best help Infobird to grow steadily and will be richly rewarded.
On April 20, 2021, Infobird (NASDAQ: IFBD) was officially listed on NASDAQ in the United States. With the IPO proceeds, Yimin Wu intends to further push the shift of the company's suite of products from customized SaaS to standardized module SaaS. Infobird is currently promoting its independently developed standardized SaaS products to further penetrate into multiple new markets and industries in China. Infobird's extensive experience serving ultra-large financial institutions with customized SaaS products facilitates the rapid development of more standardized SaaS products and a quickly growing market share. At present, some investors believe that Infobird is on the edge of explosive growth in the company's performance and that the company's business is at an inflection point in a comprehensive transformation. It's expected that within three years of Infobird's IPO, sales of company's standard SaaS service will greatly increase the company's customer base, market share and profitability as well as set the stage for extended growth well into the future.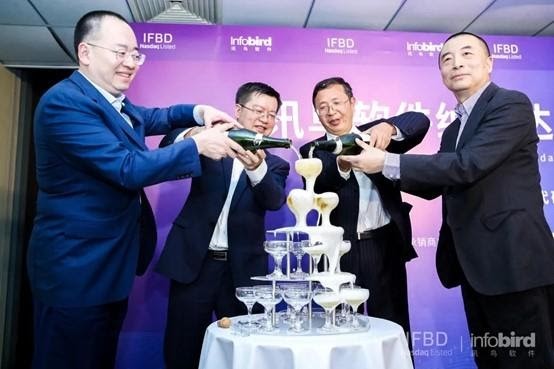 At the company's internal celebration meeting held on the first day of trading, Mr. Wu said, "Infobird pioneered the cloud computing call center, created China's leading intelligent customer service system, launched the digital intelligent customer management concept, and built a nationwide customer base. It has served more than 70,000 enterprises with independently developed technologies and excellent products."
"The twenty-year-old Infobird is at its growth phase. We are full of passion and drive. We hope to open an unprecedented new path in the field of AI customer business and release more energy, and create greater value for business and society with the tide of economic globalization". Mr. Wu said that with the help of new technologies, business digitalization has ushered in a turning point. Infobird will strengthen the integration of technology and scenarios in the future and continue to explore more new possibilities in the field of customer engagement.
"We dream of letting the light of science and technology illuminate every corner of the business world. Therefore, we choose to be listed on NASDAQ. We must accelerate development with a global vision. The IPO is not the end, it is a new starting point, and it means more opportunities and bigger responsibilities. In order to achieve new growth, we will face more tests and challenges in the future. Maybe Infobird will go through revolutions, but our mission to make customer engagement smart will not change".
For more information, visit the company's website at www.infobird.com/en/index.html.
NOTE TO INVESTORS: The latest news and updates relating to IFBD are available in the company's newsroom at https://ibn.fm/IFBD
About ChineseWire
ChineseWire (CW) is a specialized communications platform focused on promising China-based companies that are listed in North America. As one of 40+ brands within the InvestorBrandNetwork ("IBN"), CW provides: (1) access to a network of wire solutions via InvestorWire to reach all target markets, industries and demographics in the most effective manner possible; (2) article and editorial syndication to 5,000+ news outlets; (3) enhanced press release solutions to ensure maximum impact; (4) social media distribution to IBN's millions of social media followers; and (5) a full array of corporate communications solutions. As a multifaceted organization with an extensive team of contributing journalists and writers, CW is uniquely positioned to best serve private and public Chinese companies that desire to reach a wide audience of investors, consumers, journalists and the general public. By cutting through the overload of information in today's market, CW brings its clients unparalleled visibility, recognition and brand awareness. CW is where news, content and information converge.
For more information, please visit https://www.chinesewire.com
Please see full terms of use and disclaimers on the ChineseWire website applicable to all content provided by CW, wherever published or re-published: http://IBN.fm/Disclaimer
ChineseWire (CW)
Los Angeles, California
www.chinesewire.com
310.299.1717 Office
[email protected]
ChineseWire is part of the InvestorBrandNetwork.